What is UX Writing?
As designers, we oftentimes rely on using visuals to guide users through interfaces. Creating an engaging iconography system, establishing a consistent type hierarchy, or designing UI elements with clear visual affordances are different ways in which we do so. Whatever the medium may be, designers are responsible for communicating how users are able to complete goals as well as why they should. Oftentimes, the clearest way to ensure users understand the consequences of the actions they take is through UX writing.
UX writing is precise, jargon-free copy that removes moments of ambiguity and frustration in a user's experience. Unlike traditional marketing copy, UX writing does not try to sell. Instead, its main focus is to communicate the value of taking specific actions and the direct outcome of taking that action. This could exist in many different ways and places but the most common are:
1. State Management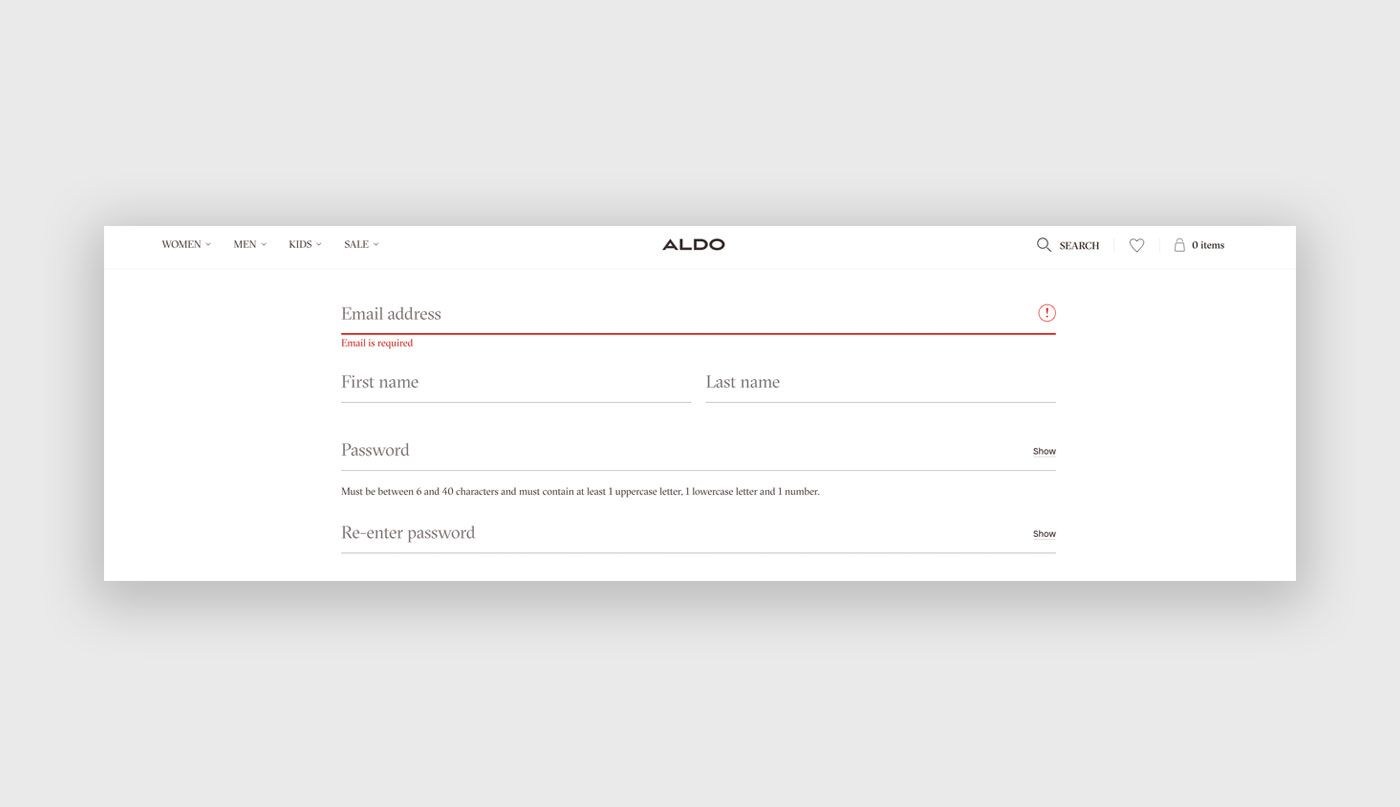 Also provides clear error and success states when handling the state management of UI elements.
2. User Onboarding or Account Creation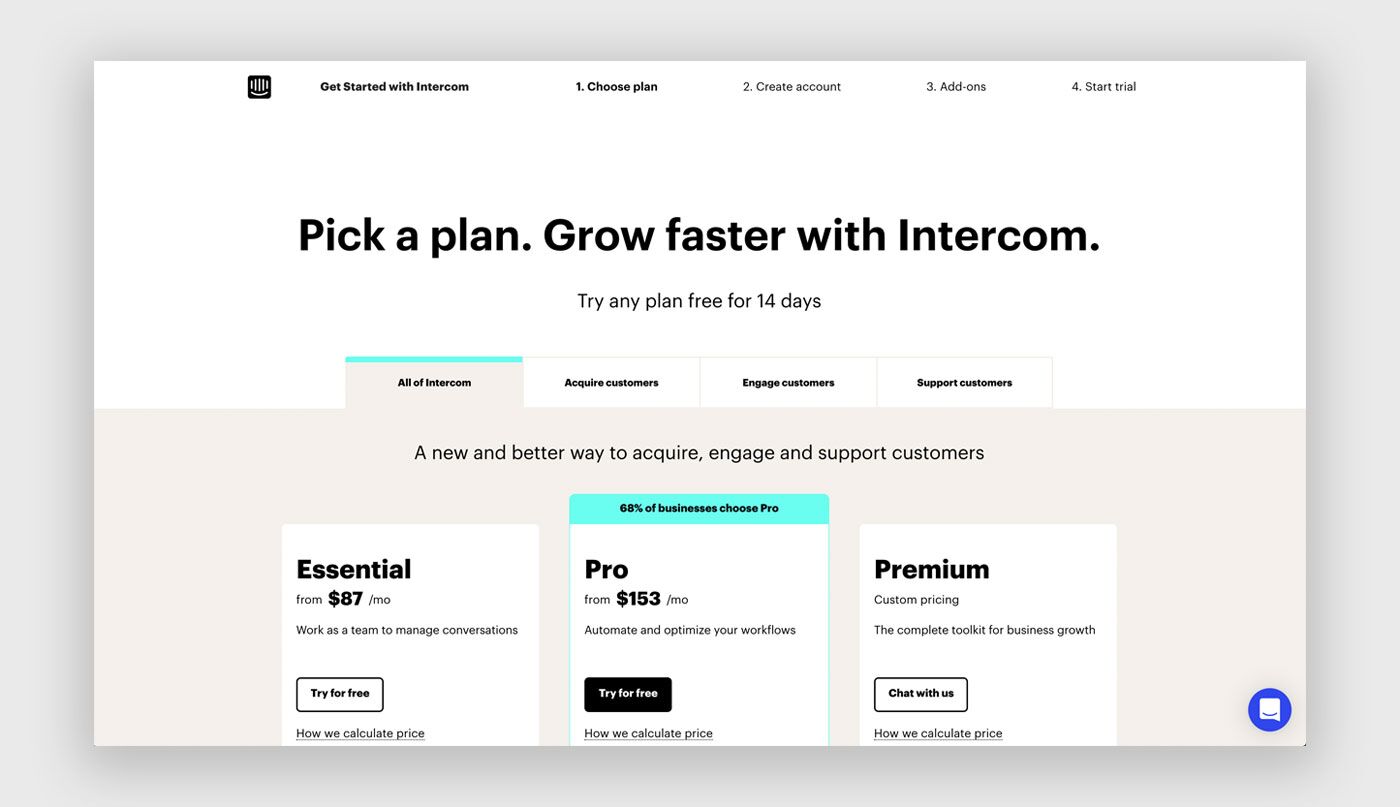 Intercom gives useful information and helpful process steps to guide users through account creation.
3. Form / Checkout Completion
The Art Institute of Chicago gives a clear value proposition and expectations for filling out a modal form.
4. Multi-Step user flows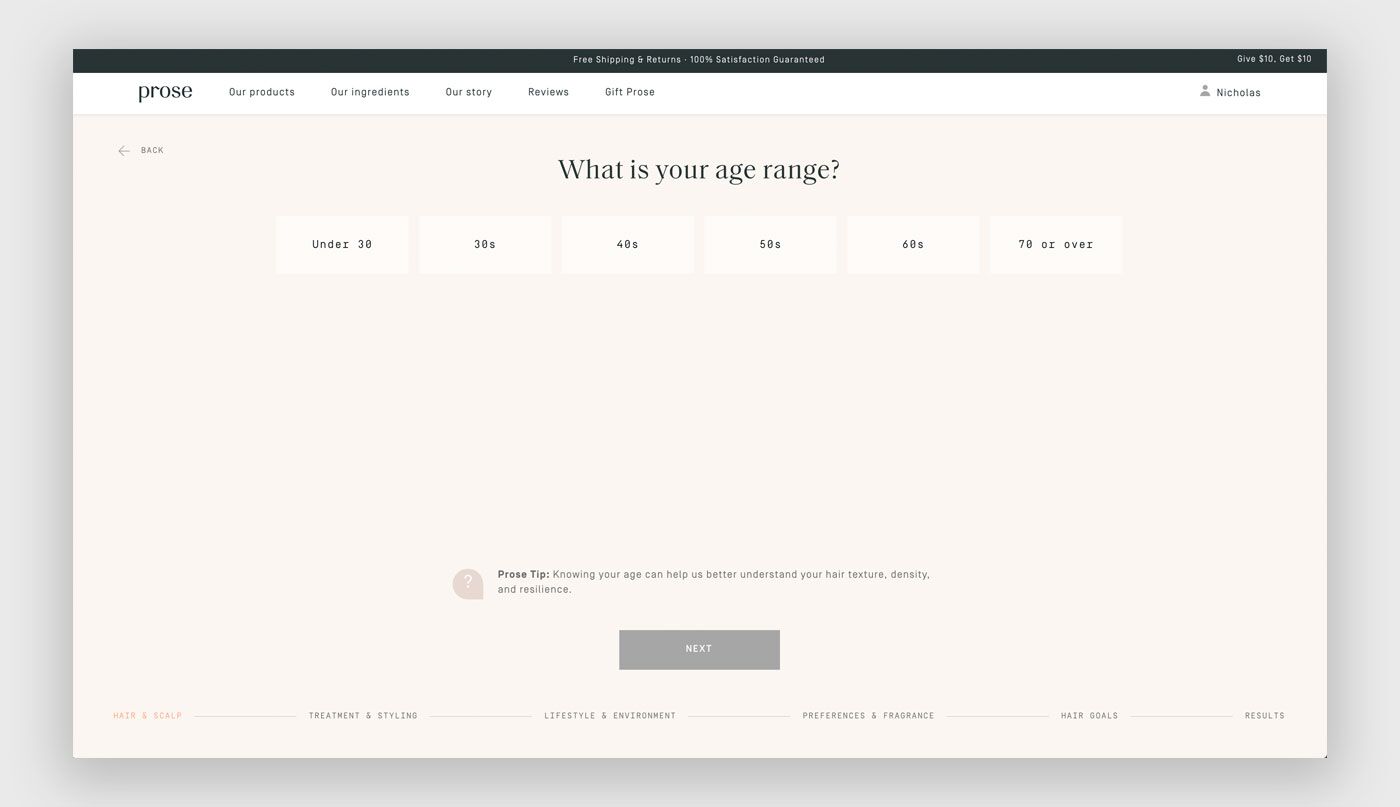 Prose Hair gives smart tips to their personalized quiz and clear process steps to guide users to their results.
In each of these cases, clear writing can be the difference between users feeling frustrated or empowered to complete tasks. UX writing is the holistic view of how users perceive content and is a crucial component of creating seamless user experiences. By designing and writing together, it will enable you to create more compelling designs, and ensure your end product is intuitive.
Start With Research
The writing in your designs should guide users without sacrificing brand tone or voice. Qualitative and quantitative research are integral parts of creating this foundation. The first step is to understand your audience and their goals as well as the business objectives of your designs. Doing this before designing will help inform the way in which you write and the overall strategy for your designs as well.
Research like user interviews, surveys, and usability tests help provide insight to where users may struggle with your designs and how you can use writing to help clarify ambiguous or difficult tasks. Instead of conducting this type of research only at the end of a project, it's important to research early and to iterate at key points during the beginning of the design phase. This will help ensure that you are never too far in the design process without checking to see if your design decisions are clear.
A good tool to conduct both this research early on for specific pages, flows or sections of your designs is Helio. With the tool, you can conduct A/B tests, surveys, and more with a targeted group of users to ensure that your designs are clear. This can help you check to see if your tone of writing is consistent and if users are struggling to complete certain tasks.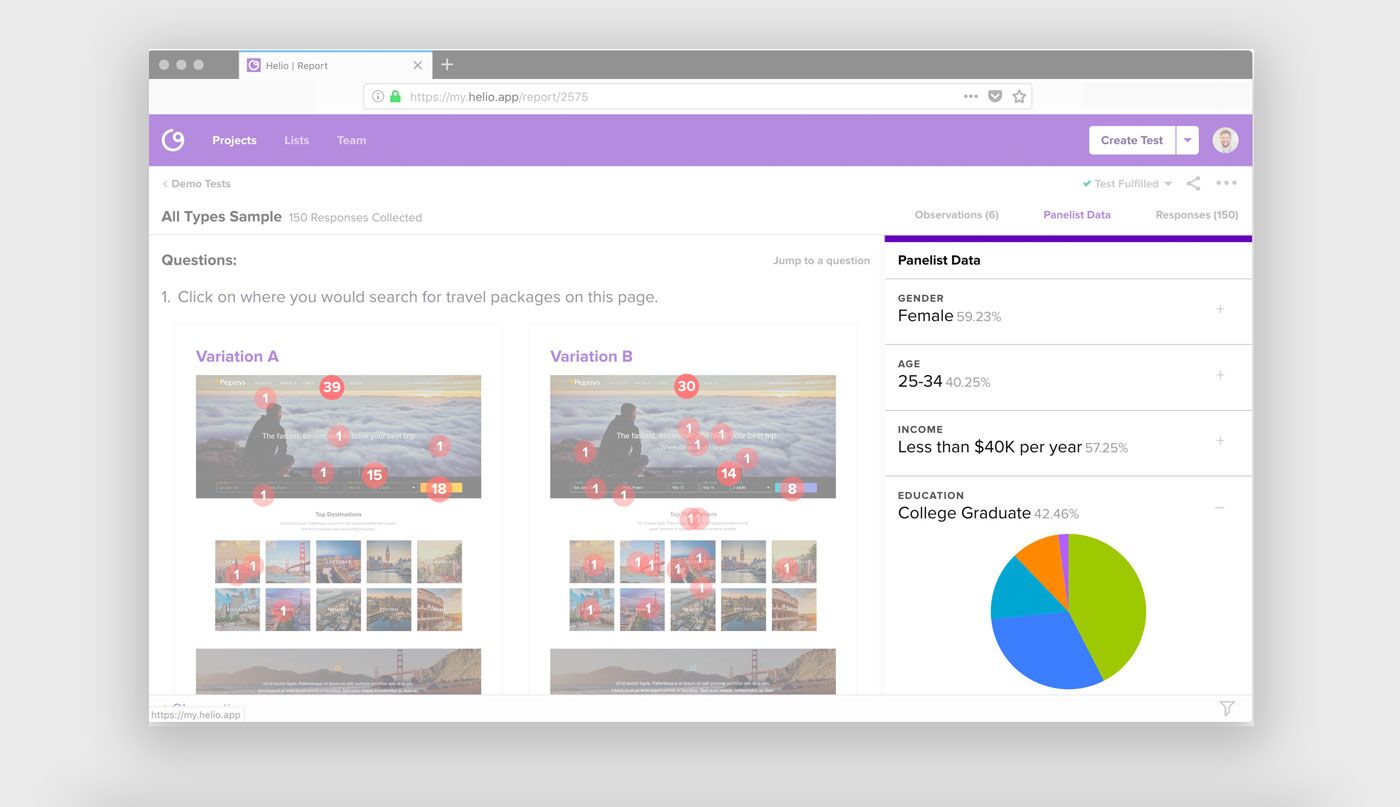 Helio App is a great tool to get quantitative and qualitative results of your writing quickly.
Using different forms of research before you being writing can ensure that you are appropriate with the tone and placement of copy. This will also help maintain a consistent and clear purpose for your writing.
Write Early and Refine Often
You should start your writing process as early as wireframing and iterate on it as you define your design system. Certain complex experiences may need more robust copy strategies, while others may be simpler. Whatever the case, it's important to never dismiss the need for writing early in your process.
The first step you can take is to avoid using placeholder text in your designs. Usually, placeholder copy is never replaced until it is too late in the process. This doesn't allow any conversation, revision or testing to take place. Designing with real copy allows team members to work on a version closer to the final product from the beginning of the process, adding clarity and achieving a more effective designs overall.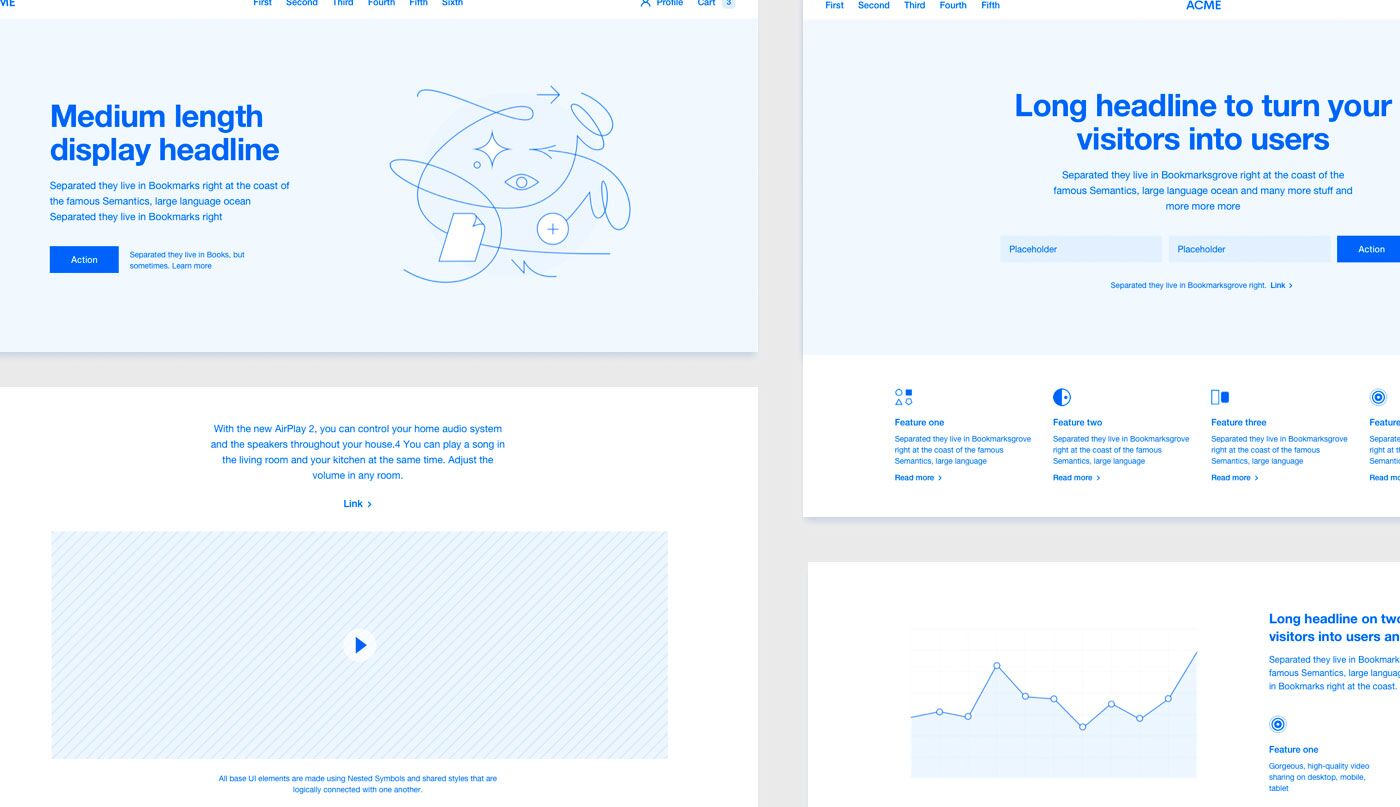 The Platforma 2 wireframe kit starts with placeholder text that you can replace quickly with real copy.
It is important to define which UX writing method is more appropriate for each step of the user journey. UI elements like tooltips and modals provide designers with ample space for further explanation. While other methods like inline microcopy and descriptive headlines can give info without forcing a user to click to read more. All these methods are valid for different reasons and it's important to experiment to find which works best with your designs.
Test and Iterate
Once your designs are live, it's important to continue to test and iterate on them. Quantitative analytics can identify crucial moments where you should put copy in place and can help identify higher level trends in your designs where large amounts of users are potentially struggling. These trends can serve as a basis to start thinking about global design elements and microcopy that might be helpful to integrate in your designs. It can also determine if certain copy is misleading or if it would be beneficial to rewrite or include new copy. One way to do this is by determining simpler or more engaging ways to inject copy into your designs.
John Saito, a UX writer at Dropbox, formed his own system of finding new and fresh ways to write through creating his 'own thesaurus.' By brainstorming words and then grouping them into thematic categories, he opens himself to new forms of writing. Using a similar strategy can help you take creative leaps and empower you to write without feeling like you are repeating yourself. This, in turn, can give your designs a new life with a fresh copy direction each time you create a wireframe.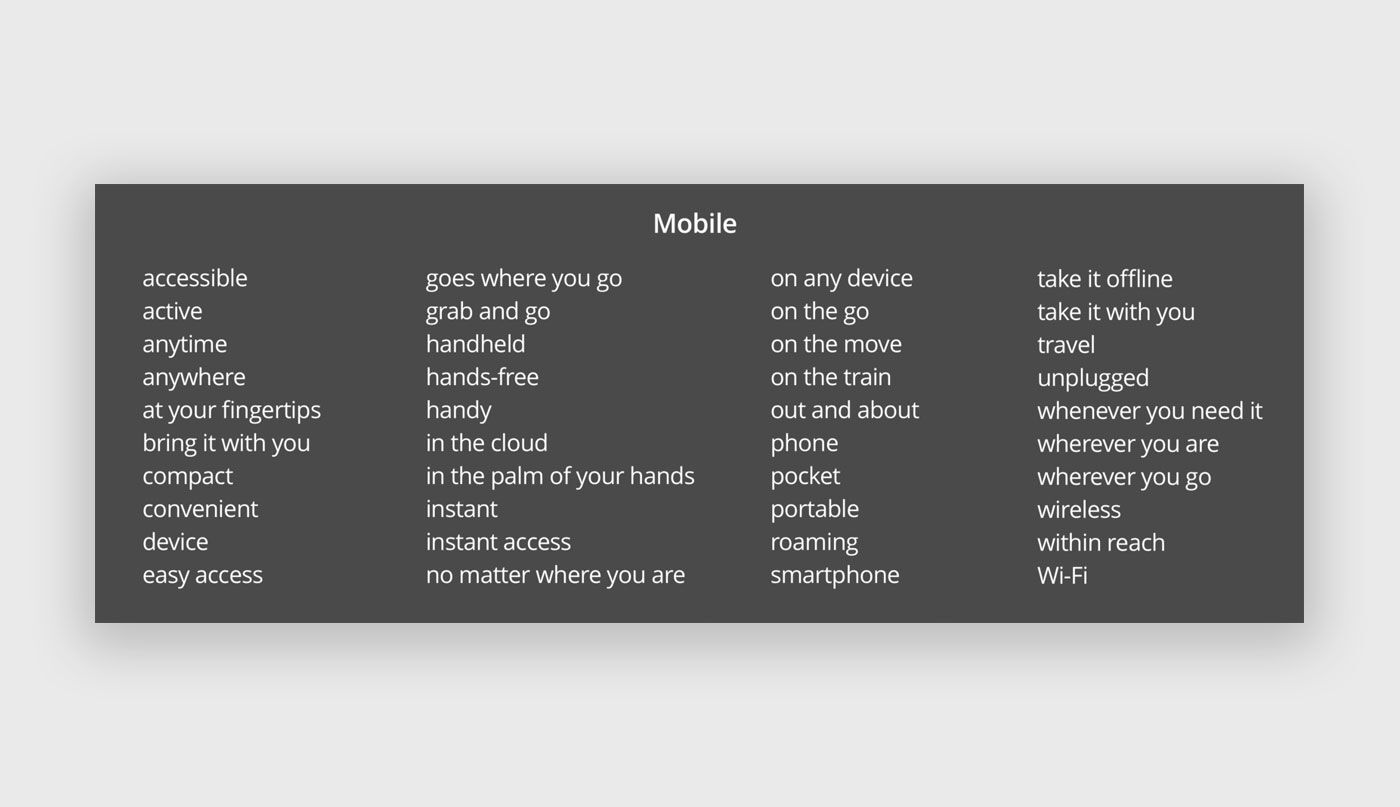 A look at John Saito's technique in action. Image courtesy of John Saito.
Another way to iterate would be to see how competitors are tackling similar problems and solving them with engaging copy. If you're designing a quiz or checkout flow, it can be useful to see how others are priming and guiding users through these flows with copy. Doing this will allow you to find patterns and determine what may or may not be working within your own designs.
Develop a Repeatable System
Design systems allow large teams to scale the design and development of products with relative ease. Usually, this comes in the form of a style guide or repository of reusable components at the end of a brand or site redesign. Like designers take care to document the visual components of a brand in a style guide, it's important to document writing usage. These guidelines can ensure consistency across new initiatives and make it easier to write in the future.
An example of an effective large-scale writing guideline is Shopify's Polaris framework. It gives usage guidelines so that writers 'Write for a grade 7 reading level' and it even outlines the proper way to write 'Black Friday Cyber Monday.' This framework outlines proper writing through grammar, vocabulary, and tone so that the brand always feels cohesive and clear.
A look at Shopify's writing guidelines that give clear 'dos' and 'dont's'
Other brands like Zendesk have adopted similar approaches to developing a guideline to writing. In their Brandland framework, they outline ways to make their tech product feel more human. They do this through short and concise writing that avoids lofty promises and complicated jargon. The framework also provides a 'Mild to Spicy' spectrum for writing tone that defines when to be more dry or personable.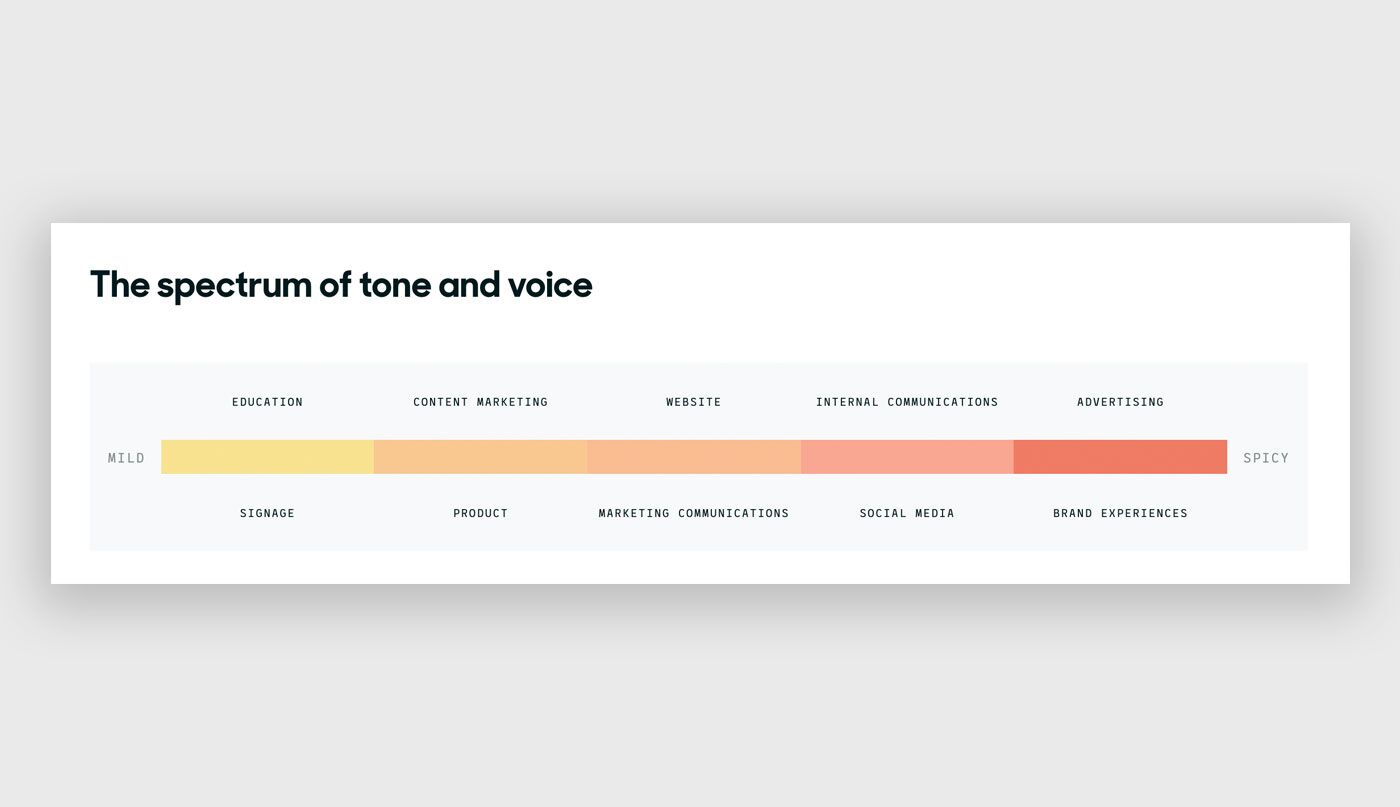 A look at Zendesk's spectrum of tone and voice.
Since each design system has different goals, it's important to document writing usage that is specific to these goals. Doing so will give yourself and other team members the ability to iterate fast and create compelling writing to compliment your designs.
Make Your Writing Inclusive
To ensure that your designs are approachable by all users, it's important to write with consideration to accessibility and internationalization. Avoid idioms, slang and complex sentence structure so users can navigate your designs easier. Doing so will provide more clarity to users with disabilities and international users. Other considerations like writing proper and thoughtful alt text can further enhance the experience of users who navigate your site with a screen reader. Mailchimp's writing guidelines provide excellent examples for writing for accessibility and translation that balance good design and writing practices together.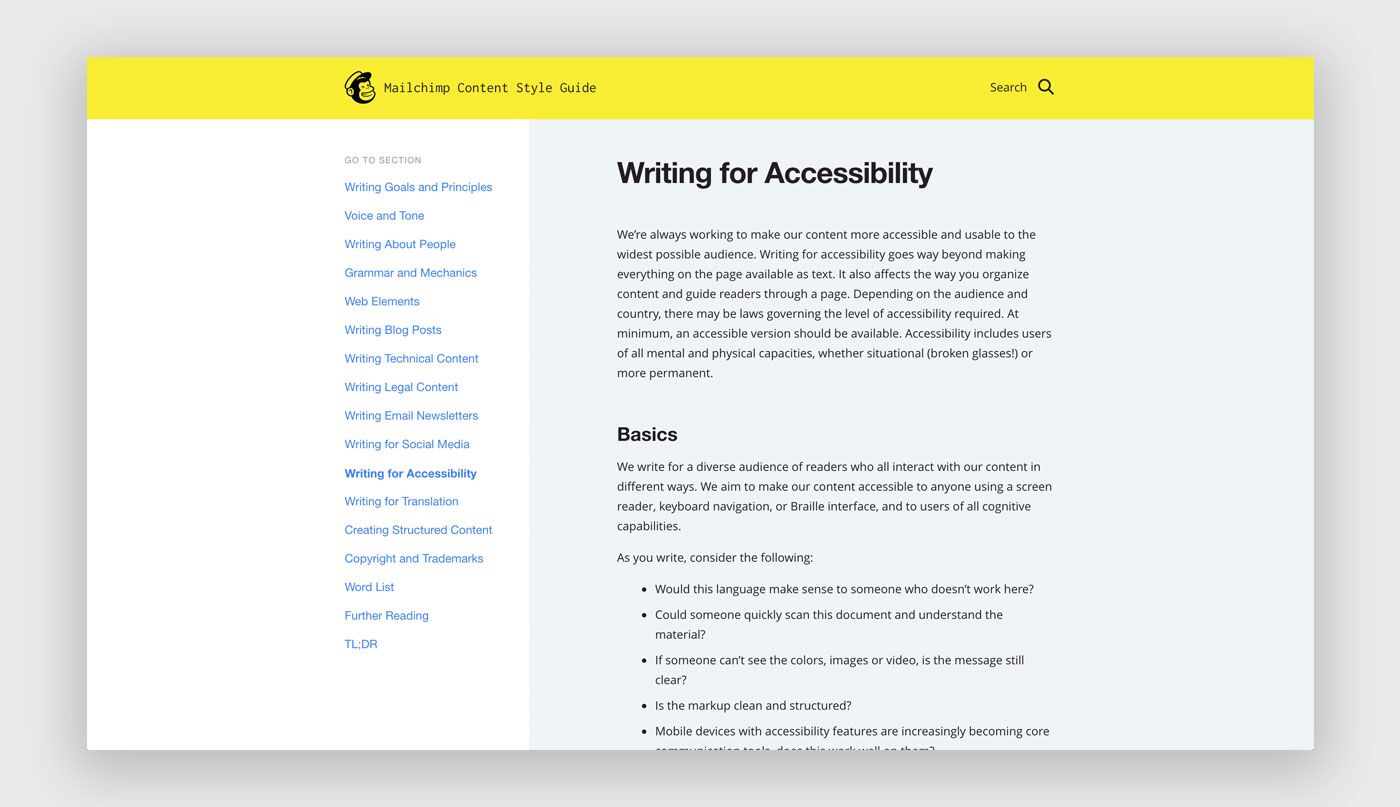 Mailchimp's content style guidelines puts an emphasis on accessibility and translation.
The Future of UX Writing
Intuitive digital experiences are becoming more common as users are expecting them to be as seamless as possible. Voice recognition devices, chatbots, and app-like mobile experiences are now mainstream. With this, the need for good UX writing will increase to keep up with the growing demand for simple and clear experiences. As a result, designers, writers, and content strategists will work closer than ever before to create comprehensive and scalable writing strategies. The next time you start a design project, consider integrating UX Writing early in your process and allow time to research, iterate, and improve upon it like you would with the visual components of your designs.