On STUDIO, it is possible to embed Iframe, but unfortunately it isn't possible to embed scripts.
However, because we received many requests to embed Twitter feeds, so today we are going to show you how to do it by using a third party service.
The official Twitter embed script cannot be used
Firstly, you may know about the official Twitter embed script, which looks something similar to the code below, however that cannot be used on STUDIO.
<a class="twitter-timeline" href="https://twitter.com/studiodesignapp?ref_src=twsrc%5Etfw">Tweets by studiodesignapp</a> <script async src="https://platform.twitter.com/widgets.js" charset="utf-8"></script>
Using FeedWind
RSS Feed, Facebook Page, Twitter, Google Calendar Widget | FeedWind
FeedWind generated code to embed a variety of services and apps. Use FeedWind in order to embed your Twitter feed on your STUDIO website.
1.Sign up on FeedWind
Sign up on FeedWind for free.
2. Connect to your Twitter account
After signing up, click on 'Create Widget'.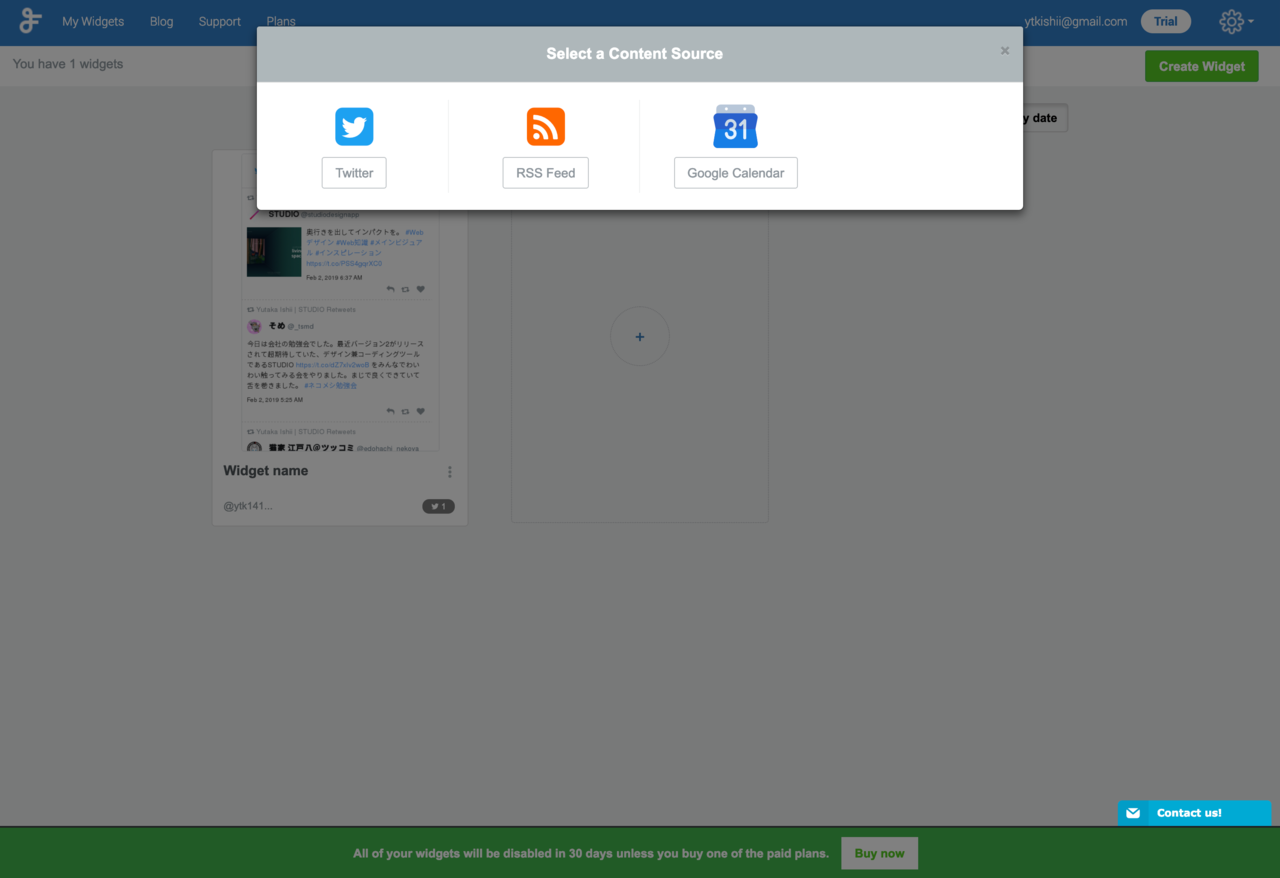 There are other options such as Google Calendar and RSS Feed, but select Twitter this time. Give FeedWind the permission to access your Twitter account and connect it.
3. Get the embed code
After you have connected FeedWind & Twitter, get the embed code that is generated.
From the top right, click on 'Save & Get Widget'. Once you do, the script tag will appear on a pop up window: click on 'Get Iframe Version'.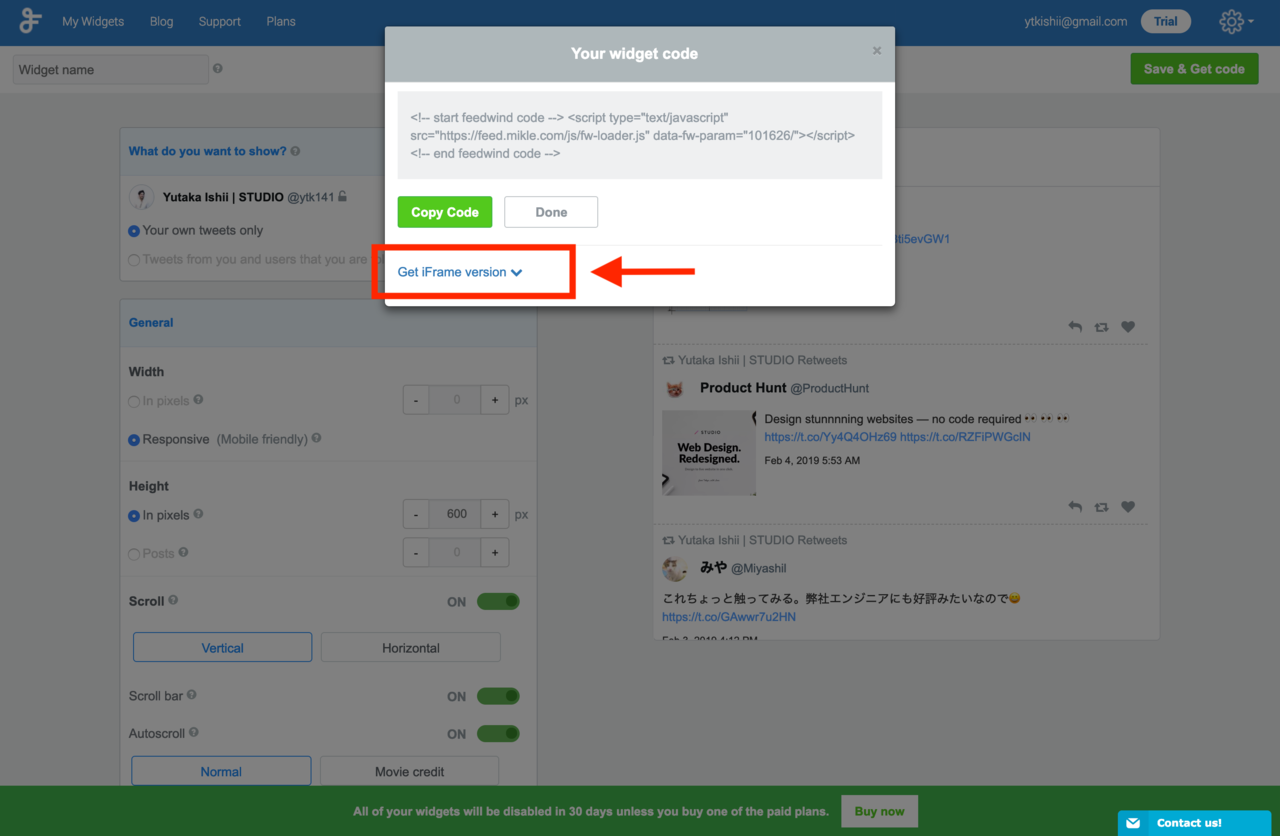 An iframe code similar to this one below ↓ will appear: copy it.
<iframe src="https://feed.mikle.com/widget/v2/101626/" height="602px" width="100%" class="fw-iframe" scrolling="no" frameborder="0"></iframe>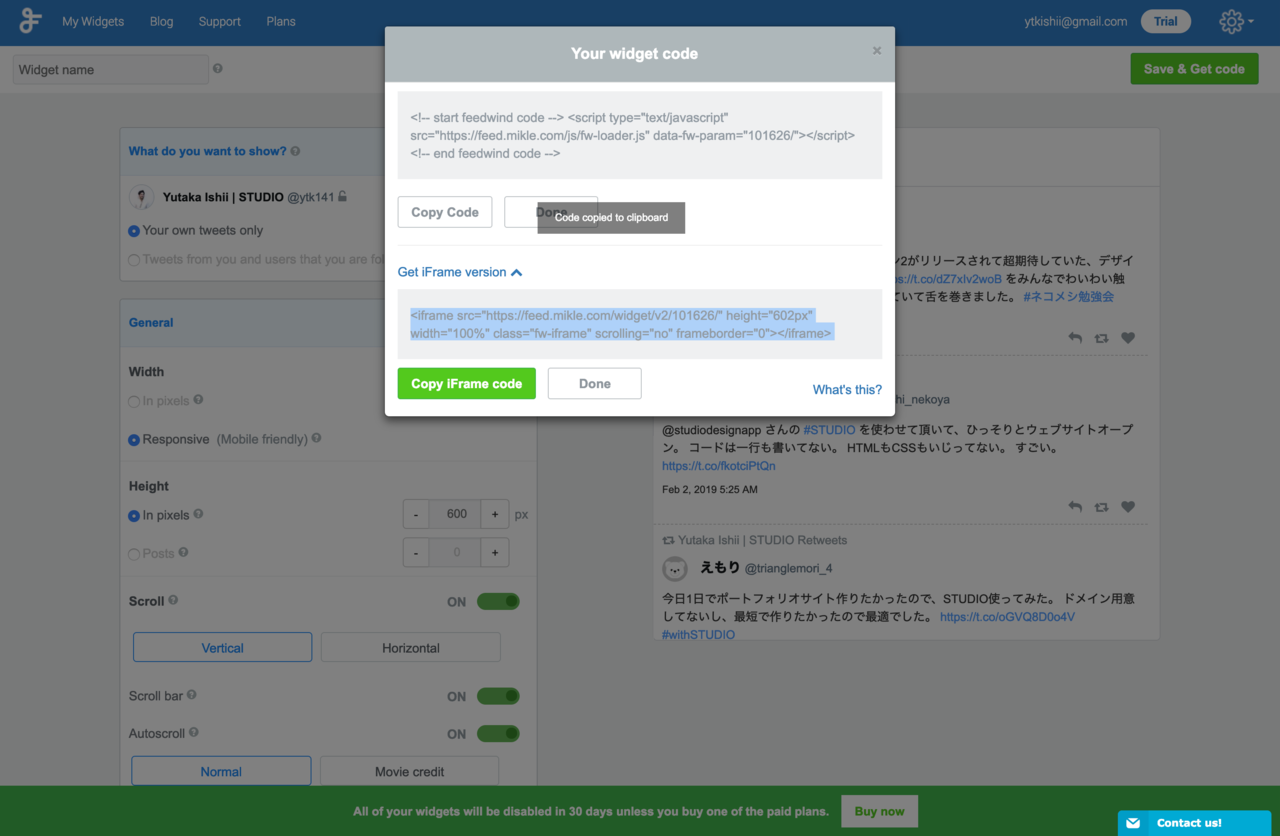 4. Paste the code on STUDIO
Once you have copied the code, go to STUDIO editor and add an Iframe box to the canvas. Then, copy & paste the iframe code into the embed code space of the iframe, and the Twitter feed will be embedded on your website!