Portfolio websites are extremely important for all freelancers including artists, designers, photographers as they are your presentation page which will hopefully land you new work or build your reputation in the industry.
**When it comes to web designers, portfolio websites are even more of a big deal **as they don't only list your work but showcase your skills and style through the website design itself.
To inspire your new web design portfolio, check out these six original examples!
1 - Kuon Yagi - Transitions & Typography
Kuon Yagi is a Japanese web designer & developer at Progate. His gorgeous portfolio won him an Awwwards prize. The transitions, as well as color palette and typography follow the latest web design trends.
2 - Ayaka Ito - Simple layout, Retro feel
Ayaka Ito is a graphic designer and illustrator, but we decided to include her portfolio because of its simple layout and the classy feel. It is a perfect example of how minor details such background color and text styling can make a simple website memorable.
3 - Sam Small - Colorful & Dynamic
Sam Small's portfolio features a short and to the point introduction, on a blue interactive header that you won't be able to stop playing with. The work showcased paints a rainbow on his website.
Daniel is a designer from Kuala Lumpur's agency Tofu Design. His services go from UI/UX design, to branding and graphic design. His portfolio features a simple & clean layout, carefully selected typography and a focus on vector illustrations, one of the web design trends of 2018.
5 - Dejan Markovic - Minimal Black and White
Dejan is a UI/UX designer with several years of experience. His portfolio is minimal - black and white, little use of pictures - but transitions make the website dynamic and a pleasure to scroll through.
Marina Tureczek is a digital designer and art director living in Berlin. Her awwward-winning portfolio features an animated header banner, a beautiful color palette and overall clean and elegant design.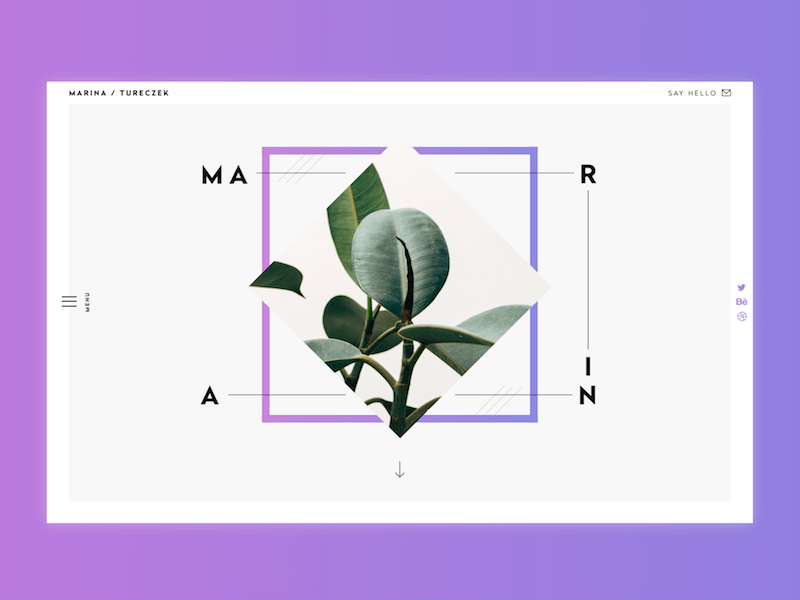 Conclusion
We hope this list inspired you to create your own unique web designer portfolio website. Next, check out 7 tips to create the perfect portfolio for creatives. Remember you can use STUDIO to create your portfolio website without coding & from scratch or choose one of the portfolio templates.